Growing up, I never thought I would be the type of girl who goes to Las Vegas to celebrate her birthday. Fast forward to 2015, and guess what?
I'm still not.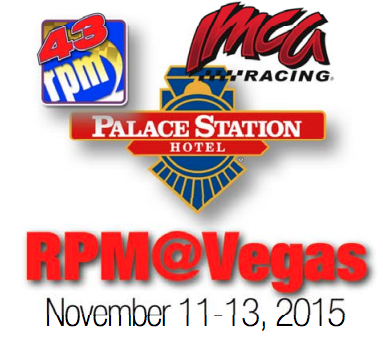 But, as fate would have it, that's exactly what's happening – I'll be ringing in my third decade at an event I'm much more excited about than my birthday: the 43rd Annual RPM Workshops!
I'm honored to share that I'll be joining short track promoters from across the country in Vegas this November at the annual RPM Workshops for the first time as a speaker. And, it'll be my 30th birthday!
Talk about a wake-up call. And I'm hoping not just for me. 
I've been collaborating with Stewart Doty, owner of the Racing Promoter's Monthly Newsletter and RPM Workshops, over the past few months on how to help promoters utilize social media to their best advantage. I know – firsthand from working with over 20 tracks in the last year alone – that social media can bring phenomenal results for racing promoters who use it. And use it well.
That's why, when Stewart approached me about taking the stage this year, I knew I had to do it.
Here's what Stewart published in the RPM event preview:
"At all three Workshops, Kristin Swartzlander of DirtyMouth Communications will sum up the changes taking place on the Facebook platform and their impact on the way promoters commonly use the social media platform. Swartzlander who before establishing her motorsports marketing service worked with other pro sports franchises, works with race track promoters, drivers, and team owners, and racing entrepreneurs to help them learn how to use public relations, marketing and social media to achieve their goals. She'll explain what promoters must do going forward to make the most of the social media tool promoters have become reliant on. Facebook is changing and the bottom has fallen out on the 'old way' of using it, and Swartzlander will explain how promoters can continue to increase engagement despite the changes, and how to use Facebook to build an audience that you own, so that the ever-evolving Facebook cannot continue to block you from the audience you have built."
I'm excited to putting my social media know-how in front of some of racing's best promoters, and not just in Vegas. We're taking the DirtyMouth show on the road to Indianapolis on December 9th and Daytona on February 14th – 16th.
That's a real testament to Stewart's vision for the workshops and his company's belief in the future of this sport. Outside looking in, RPM is not about just telling promoters what they want to hear. Or giving them theory and conjecture.
With this presentation, my goal is to give promoters the social media tools they need to succeed. And, with my rose-colored glasses on, I believe this is one way I can contribute to the growth of the sport.
And RPM is giving me that opportunity. So I will take it.
Even if that does mean birthday pie in Vegas. 
xo.
Kristin
P.S. Will you be attending any of the sessions? Drop me a line at Kristin@DirtyMouthCommunications.com and let me know what you're hoping to learn, or any questions or suggestions you might have, or just to say hi!