Over the summer, Carl and I decided to make our way to the Craig Campbell concert at the Indiana County Fair for obvious food and entertainment-related reasons. I mean, who doesn't love gawking at how redneck teenagers act right before they drop a pulled pork sandwich all over their own (white) shirt?
Hypothetically speaking.
(Also, see my screenshot of what popped up when I searched for Indiana County State Fair on my iPhone at right. Just for fun.)
Partway through the concert, while the drunken teenagers were making a mosh pit, it hit me how different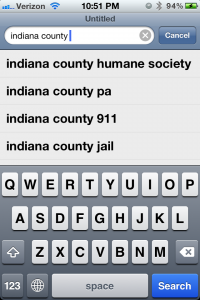 this set was than the first time we saw him play at a Hard Rock Café. Here, in front of thousands of people, he played mostly upbeat songs. He didn't take a break in the middle of the set. There were no long pauses between songs.
And when his radio hits came on, he did something that I've seen at every large-venue concert – he turned the mic around and had the audience sing the chorus.
And then it hit me. He wouldn't do that unless he felt 100% sure that they knew the words.
He knew his audience and what they came there for. He wouldn't have done that unless he knew they knew they'd sing it back. How awkward would it have been if it was just* crickets*? The crowd would have deflated.
Instead, he knew what song would resonate with them and gave them the opportunity to feel like they were on stage with them by belting it out.
He validated them.
When he played at the Hard Rock, there were probably no more than 100 people in the room. And he talked to us. He told us the stories of his songs. He played riffs that we'd never heard before and he told us why he wrote them and why he was playing them. He told us about his life.
It was an intimate setting. We didn't go there to get hammered and scream at the top of our lungs from atop a mosh pit. We wanted to feel like we got to know a relatively unknown musician.
And he totally nailed it.
Craig Campbell set himself up for success by knowing what his audience wanted and how to give it to them.
We're in the entertainment business – shouldn't we be doing the same?
xo.
Kristin