Working on as many social media accounts as I do, I've used tons of tools to help clients get the most bang for their buck in terms of time, budget and effort. There are thousands of them out there, but not all of them work the way they say they do. That's why I'm the guinea pig testing hundreds of tools and platforms!
Here are five of my favorite (FREE!) pre-tested tools that will help you take your social media game to the next level: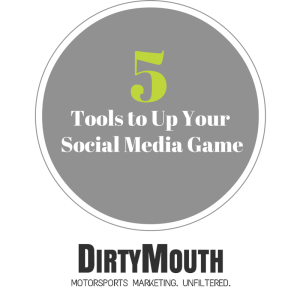 For Social Media Graphics: Canva.com
Images are crucial to social media success, especially in racing. What's more visual than our sport? Takeadvantage of the opportunity to show off your goods with Canva.
Canva is one of the easiest to use design websites out there. But that's not the only reason I love them. One of my favorite features are their templates. Whether you want a new Facebook profile image, Twitter cover photo or just a photo that looks great on your updates, Canva has templates for all of them.
They even have a 'design school' that walks you through how to use the site and gives great ideas for different graphics packages. I love one of their recent posts – Steal These 50 Branding Kits – which helps you to see the importance of consistent branding across all channels, from your social media to your – cough! – racing sponsorship proposals.
Make it custom to your team or track by combining your own images with their beautiful fonts and graphics.
For Social Media Scheduling: Hootsuite.com
This should read: for making sure that you regularly activate your partnerships…but I digress. Scheduling is good for a number of things, from ensuring that your sponsors are happy to planning promotions and updates.
For example, are you doing a t-shirt sale on Friday night? Upload your text and graphics to Hootsuite ahead of time and picking a day and time to release it. You can either stop worrying about having everything on your phone at the race track OR you can actually do the promotions that you don't normally have time to on the day of OR you can stop posting updates only when you're able to, whether that's the most optimal time or not. I think you get the picture: scheduling makes life better.
You can use Hootsuite to schedule updates on Twitter (my favorite!), Facebook (schedule them on Facebook itself for more reach), LinkedIn and Google+. The only caveat is this: if you're using it to upload Twitter images, consider popping for the Pro version. It's $9.99/month right now, but it allows your images to show up as native Twitter pics instead of shortened URL versions.
Social Media Monitoring: Hootsuite
While we're talking about Hootsuite, another great thing it helps you wtih is social media monitoring. Who cares about monitoring? I do. Your sponsors and partners do. So, you probably should.
Here's how it works: for each social media network you have hooked to Hootsuite, you can setup keywords to monitor on that network. For example, I have a 'stream' setup for each of my clients that monitors not just regular mentions that tag them but also their names without the @ symbol, any hashtags we've used, the names of their events and other relevant data.
You can also monitor mentions of other accounts. For example, if I'm promoting an event, I'll monitor mentions of that track leading up to the event to see what people are saying about the venue. You can also monitor your competitors, local tracks, potential marketing partners, etc.
For Overlaying Text and Logos on your Photos: Phonto
When I'm doing an event, whether it's for a team or a promoter, I take pictures on the fly and update them to the client's account. What used to be missing is the ability to quickly edit those photos to include the event or team logo. With the Phonto app, I can now do that!
Phonto is pretty straightforward. You can upload your logo (use a transparent background) and save it to use over and over again. You can also upload your own font – nice for super custom branding – or use any one of their 400 free ones.
— In case you didn't get my memo: photos. Photos + racing = content perfection! —
For Reposting Instagram Content: Repost App
Sick of doing a screenshot and cropping other people's Instagram posts so that you can re-upload them to your account? That's best case scenario, unless you have a repost app. There are a few out there. My tried and true? The aptly named Repost App.
It's simple to use – when you see something you want to repost or share on Instagram, open up the Repost App and look it up there. It'll share to your account – with your own caption – in nearly one click.
I hope these tools give you some ideas about what more you can do with your social media accounts at race time! Happy racing.
xo.
Kristin