Recently, one of our DirtyMouth Sponsorship Success Community members, late model racer Darin Henderson, posted about one of his marketing wins: a feature on the late-model-focused publication DirtOnDirt.com. In his post, Darin recognized the value of the media attention he received in continuing to grow his audience and build his fan-base and provide added value to current marketing partners and potentially attract new sponsors.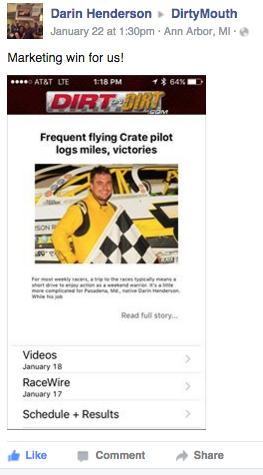 There is immense power in being featured in the media, both for your team or track and for your marketing partners, and I was really excited that Darin realized this.
With my background doing public relations , I often forget that not everyone sees how valuable media coverage is, and how straightforward it is to get some when you have a compelling story and you work professionally with the media.
Media coverage can:
Expose you to new potential fans
Expose you to new potential marketing partners
Provide value to current marketing partners (by giving them additional reach beyond your core fan base)
Give you a platform to share parts of your story that you haven't shared elsewhere
Allow fans to connect with you on a different level, through your voice or image on podcasts and video
Provide an additional point of reference for the know-like-trust factor, often boosting sales and levels of engagement
Allow you to create new messaging about yourself, your products, your track or your event
Set you apart from your competition (and, no, that's not just the racer in the trailer next to you or the track down the road)
Provide hard metrics and credibility for marketing partners and other, bigger, media outlets
Do so much more….
So, how do you go out and get this valuable media coverage? Let's break it down.
Figure out what your story is. What makes you unique? It's not just racing. Are you an over-the-road trucker by day? A hockey player by night? Do you offer the only organic menu at an entertainment venue in your region (call me! wink.)? I could talk to racers and tracks for hours and hours about this (in fact, I do every single week…) but in a nutshell, ask yourself what would make you stand out in a crowd of racers, tracks, advertising mediums, entertainment venues, etc.
Figure out where you'd like to get media coverage. Getting featured in racing publications is great, especially if your marketing partners are business-to-business (i.e. looking to sell to other racers or racing-related businesses). But there's quite a bit of magic in looking to non-racing media, too. In fact, this was one of my specialties when I worked for the San Francisco 49ers – garnering off-the-field publicity for key players. Some of the players, Vernon Davis in particular, were interested in fashion, so we secured a fashion spread in a high-end local magazine. Delanie Walker, for example, is a car collector. So we got him featured in a few classic car outlets.  It expanded the team's reach into markets that weren't directly football enthusiasts, and the players benefitted from that as well. So, you want to look at what makes you unique and look at media outlets in that industry or field. If you're a chef, perhaps the Food & Wine section of your local newspaper would be interested in a piece on a chef that tears it up on the track after hours or rolls up his sleeves at the local race track?
Do your homework, and then reach out. Reporters get lots (and lots!) of inquiries every single day, so you have to make it easy for them to choose to write about you. Do some research on pieces they've written before that might align with your story. Make sure that their audience would actually be interested in an article on your topic. Find their contact information and put together a pitch. It should be simple and concise – introduce yourself, give them a few bullet points on why your piece of news or story would be relevant to their audience and let them know that you'll provide as much information as they need. If you have supporting media – pictures or video – that you can provide them with, mention that. Above all, respect their time and don't pitch them stories that aren't relevant or newsworthy.
Be proactive. You cannot assume that media members – or other racers and event promoters, for that matter – are scanning social media for your pieces of news. Got a win? Send out a (well-written) press release to racing media members. Doing a great promotion or charity event? Let relevant media members know with a quick email or tweet. We live in a nice little racing bubble, so it's easy to assume that everyone knows what's going on at all times. They don't. If you want press coverage, you need to do the heavy lifting and let them know about your great story or news item.
And be nice, for goodness sake. You have no idea how many times I've watched a racer completely brush off a reporter in the pits. Think they don't remember that? You're wrong. No, reporters aren't perfect either. Whether things are going swimmingly for you or you've just junked your favorite car, remember that reporters have a job to do and they're a potential vehicle for you to create more fans. Yes, some of them are trying to get you to say something 'interesting' so they have a 'newsworthy' quote, but most aren't from TMZ. They're there because they, too, love the sport and need to give their fans a good story. A positive story. So don't avoid them or be combative. Be nice. Even if they don't include you in the story or mis-quote you, at least you treated them well and did your best to help them.
In fact, let's just be nice to everyone, while we're at it. And tell that reporter 'thank you'.
Because real winners have manners. And fans.
xo.
Kristin
P.S. Got some great, unique coverage for your team, track or event? Feel free to share in the comments section or on our Facebook page!