Ever see a truck driving down the highway with a back windshield full of decals? From K&N to Monster Energy, he's got all his adrenaline-related needs covered. Like this: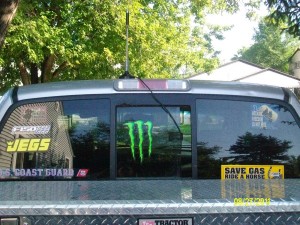 Now, how many times have you thought to yourself: how did that guy get so many sponsors??!
NO?
So why do we do the same with other race cars?
I have talked to so, so many racers who are discouraged when they look around the pits and see other race cars with tons of decals – specifically manufacturers decals – on them.
They assume that those manufacturers are giving cash or product to their competition, even though they may have pitched them on a partnership and been turned down or offered a discount.
But the truth is: many racers treat their race cars like they treat their F150's – as a set of wheels to decorate.
Many race cars sport decals for businesses, ideas or personalities purely because they like or support that entity. 
For example, anyone spot Trump ads on race cars this season? We did! And the only one that I know of that got paid for that advertisement was the Bruce Williams/Roger Crockett outfit at the 2015 Knoxville Nationals.
(You can read a full breakdown of that partnership here.)
They also sport decals for businesses that might give them a discount on products they buy, or in-kind product sponsorship and/or services.
And don't get me wrong: there's value in all of that.
But don't get the impression that everyone who has a decal on their car is getting paid cold, hard cash for the privilege of exposure to fans. 
Finding sponsors with marketing budgets is not easy. It takes a lot of work.
It requires the investment of time, energy and money to:
Build relationships with potential marketing partners,
Build and engage an audience that marketing partners want to reach,
Build a set of assets that will help marketing partners reach their goals,
Research what specific marketing partners goals might be,
Craft marketing materials like pitches and proposals that convey how these assets match up to these goals,
Help marketing partners understand how you will help them achieve their marketing goals, and,
Activate the partnership over the course of the year once you've sealed the deal.
That's more work than most people are willing to do with no guaranteed outcome. Because, remember: you will not convert every potential partner into a sponsor. 
(If you like math, or if you like your sanity and want to know how many pitches you'll have to make to secure a sponsorship, check out this article.)
So it makes sense that most of the decals out there aren't attached to that lengthy set of actions.
Many racers are surprised when they ask us about our car and find out that every decal is connected to real value to our team. I'm continuously surprised and disappointed by their surprise, to be honest. Because…
There are so many opportunities out there for us as racers, or tracks, or events, to provide value for marketing partners.
We have a rabid audience that pays close attention to everything we do. They buy products that we use, both in the pits and our non-racing lives. They support the brands that support racing.
If you're wanting to connect those dots – connect marketing partners to their customers through your brand – there is significant value in that work. And you should be paid for that in some form.
Please do not be discouraged by what appears for your competition. It might not be real for your competitors, but it can be real for you if you show up and do the hard and smart work.
And, for what it's worth, if nothing else you're earning a fan in me.
xo.
Kristin
P.S. Need one more piece to get you up and running as you move into the offseason? Here it is: Ready to make your racing a business? Treat it that way.