At the end of the race, at the end of the day, what are you left with?
'Trophies,' according to Kenny Wallace.
This morning, I had the pleasure of listening to Kenny Wallace keynote the RPM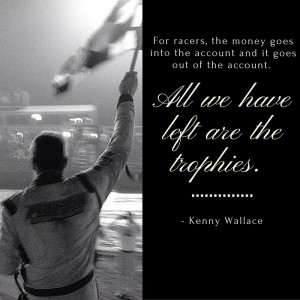 Promoter's Workshops in Las Vegas. He made quite a few interesting points, but one that jumped out to me for racers was this (and, forgive me, but I'm paraphrasing):
"For racers, the money goes into the accounts, and the money goes out of the accounts. All we have left at the end of the day are the trophies." 
Kenny talked a lot about where we are as a sport, both fiscally and emotionally.He made sure to emphasize that as racing businesses, we need to be profitable. But what I took away from it was this: if you're only paying attention to the financial side of things, you're forgetting about why we're here.
Because at the end of the day – and this is according to Kenny – we're all trying to get to that same moment where we're cracking open a Bud Light after the hauler's closed up and the lights are shut off. The money that came in has already gone out, and all we have left are the trophies.
Kenny was talking about actual, physical trophies because we're at a race track conference, but I think it goes beyond that. Our trophies are not just trophies.
In your relationships, whether that's with a fan, sponsor, racer or track, I think we need to ask ourselves: what trophy are we leaving them with? 
Are we giving them the trophy that they can remember us (and their experience) by?
The racer is the easiest and most pertinent example – there's never any money leftover to remember the wins by – but can't we say the same for the rest of us?
What are we leaving our customers and fans with? Many tracks that I've been to, I can recall the exact program I saw, or some fantastic concession offering, the atmosphere or the hospitality. Others, not so much.
I can remember meeting drivers as a little, little kid and the autograph cards they gave out, the t-shirt they autographed, or simply the way they spoke to me. Again, others not as much.
Whether it's a trophy, autograph card, conversation or thank you note, can you leave the people who give you their money, time, or appreciation with something that will stand the test of time?
Can you give them a trophy?
xo.
Kristin