Can you believe it's already December?!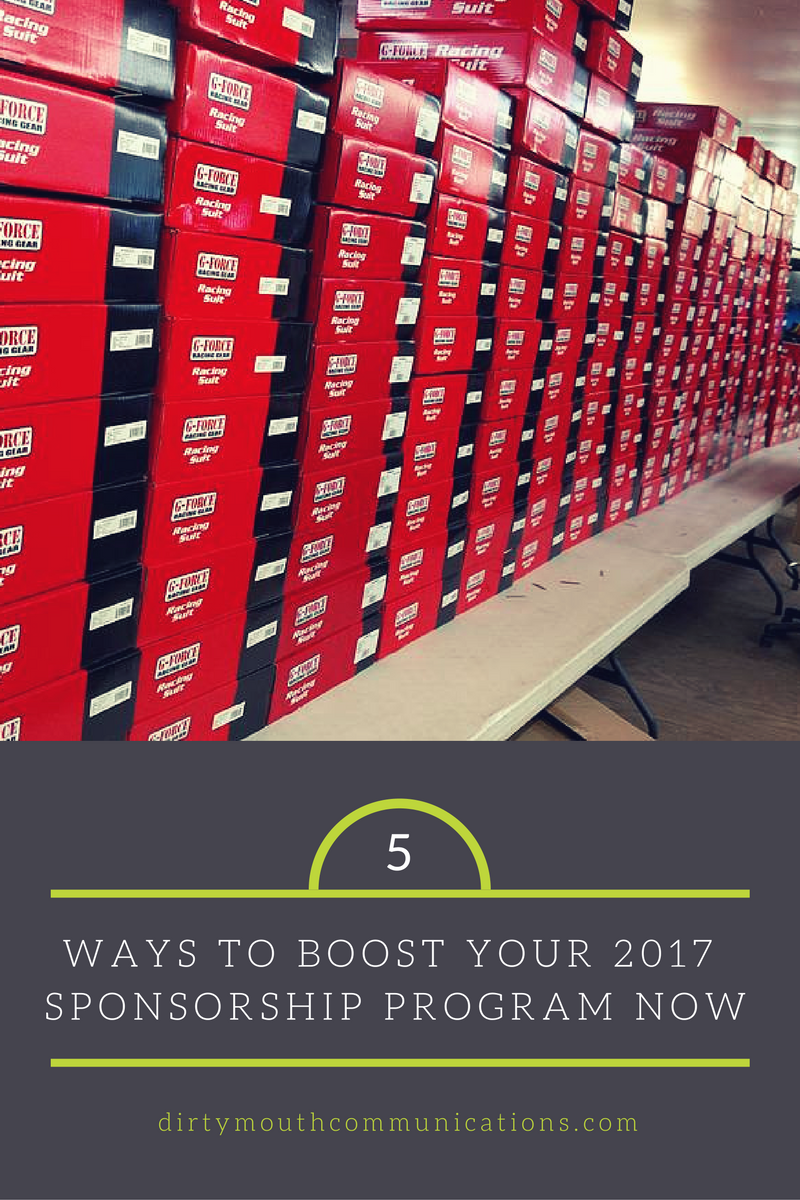 Believe it or not, now's the time to kickstart your 2017 season sponsorship program if you haven't already.
Although many businesses are focused on their end-of-year activities and not on hearing your marketing pitch, there is still a LOT you can be doing to:
do right by your current marketing partners, and
get prepared for the 2017 season, off the track.
So, that's what we're talking about today: five things you should be doing in December to boost your sponsorship results in 2017.
Thank your current sponsors. 
If you only do one thing this off-season, this should be it.
I know that many racers – many people in every industry – have the 'take the money and run' attitude. But we're not going to even touch on that, because I know you aren't those kind of people. Instead, we're going to assume that you fulfilled all of your promises over the season and activated those partnerships.
That being established, now's the time to thank your marketing partners for their part in your 2016 program. You might send them a thank you card or a holiday gift, do a little extra activation with a 'sponsored'-type social media post or email to your newsletter list, take them to lunch or simply get on the phone and spend some time talking about what their support meant to you.
It's also a great time to break down any kind of data you can for them with an analytics report on the season – that might include data from the track (for example: number of team t-shirts with their messaging or samples distributed) and off the track (for example: website and social media traffic, most popular posts, etc.).
Create a time-and-execution plan for 2017. 
Most racers that I know spend certain nights in the garage no matter what. For us, if nothing else, the team is in the garage every Tuesday working on the car whether we're racing or not.
What if you treated your marketing program the same way?
Take some time this month to layout a plan for both dedicating time to your marketing program – for finding and signing sponsors, for example – and to executing your activation.  Maybe you want to set aside a few hours every Sunday afternoon or Wednesday night to building your materials, adding to your prospect list, following up on leads and creating sponsor content.
Now's a great time to lay that plan out and schedule it in before things get hectic and sponsorship becomes an afterthought.
And speaking of execution…
Start looking around and asking questions. 
This is a great time to build your prospect list – the people you are considering approaching about sponsorship – and that starts with looking around and asking questions.
What products and services do you use regularly? What products and services do your audience rave about? Are you seeing marketing for new companies, or new marketing for established brands? Might they be a good fit for your program?
Regularly check-in and take a look around – you're likely exposed to more retail (and more retail marketing!) in the holiday season, so now's a great time to notice what companies are putting themselves out there, what companies aren't, and what audiences those companies are targeting.
Build your assets inventory. 
This is your list from which you can reference to create the right packages for the right marketing partners. In this (internal) list, you should also note what you feel the value is to a sponsor, and what the costs (both hard, as in cold, hard cash, and in time and effort) are to you. Note what the cash value might be to the sponsor, and the non-cash value. Will they be building their brand share in a certain demographic? Will they receive press or community relations benefits? Note them.
Need more insights on assets? Check out this blog post for more tips.
Gather data. Build your materials.  
Once you've built your assets, you can start gathering the data that will assist you with building your marketing materials.
By 'marketing materials', I don't just mean your sponsorship proposals. This might be your autograph cards for next year, social media infographics, PR assets like the information in your email newsletter or boilerplate at bottom of your press releases, announcer information packets for when you travel to new tracks and more.
Now might not be the best time to pitch companies, as their focus is likely elsewhere, but it is a great time to get a jump on your off-the-track program for 2017!
xo.
Kristin