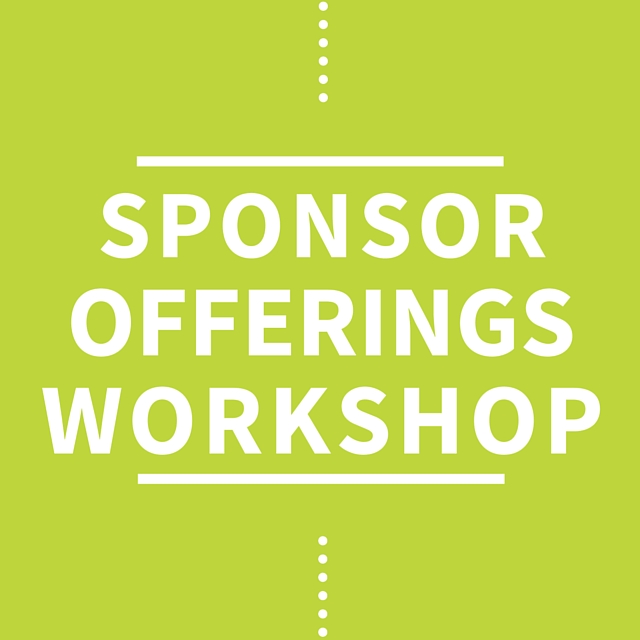 A private sponsorship marketing workshop developed exclusively for racers who want to get better at selling their sponsorship but don't know what to offer, when to offer it and to whom, and how to value it.
Workshop Details: 
Includes: 1.5 hour video workshop and supporting materials
What You'll Learn
Slap a logo on the car and turn left? Not anymore, my very intelligent friend. 
An offering is more than just a product. It's more than just a logo on a car, appearance at an event, email subscriber or customer.
It's a solution.
The right offering to the right marketing partner can be the answer to their marketing prayers. From building loyalty with employees and stakeholders to increasing brand value with existing customers, sponsorship can help a company reach their marketing goals in a way that's both fun and rewarding.
And when you find that solution, that answer, to a painful problem that they can put their marketing faith into? The cost becomes an investment. And the price of that investment – the price of that solution – becomes a mere detail.
Here's what we'll cover on the path to crafting solutions that sponsors want to pay for: 
Creating (Winning) Offerings
We'll touch on the basics of motorsports marketing offerings – think decals and trailer wraps – and the not-so-basic promotions that savvy marketing partners are looking for. From traditional to out-of-the-box, we'll go over how to create an offering that marketing partners can utilize for a variety of functions, including brand recognition, sales leads, employee retention, and community relations. We'll also talk about executing these offerings and incorporating others, from competitors to tracks, local businesses to media outlets.
Matching the Right Offer with the Right Sponsor
How do you know what to offer to whom? We'll go over how to uncover clues as to what your potential partner is looking for in their future marketing programs, and how you can fill that gap with easy-to-understand custom offerings that provide return on investment.
What to Charge and Why
The age old question: how much do I charge? We'll cover why the old model of pricing racing assets doesn't work and how to shift your mindset to the new standard: calculating the value to a sponsor. We'll go over how to find real metrics to equate value, no matter what industry your sponsor does business in. We'll also talk about trade, product sponsorships and the value of a partnership to your own team, beyond the monetary incentives.
Let's do this. Together.
If you're not jumping at the chance to sell sponsorship for 2016, confidence in what you're selling just might be what's holding you back. If not knowing what to offer, when and how to offer it and how much to charge is keeping you from being the most confident sponsorship-seeker at the track, get ready to shift gears.
Can you really afford not to?