Next week, I'll be making a quick trip down to Florida for the RPM Promoter's Workshops, where I'll be speaking about social media and how to use it well to promote your racing series or track.
(Note: I'll also have a booth right outside of the meeting room – stop by, say hello and grab a little gift if you'll be there!)
Particularly, I'll be talking about Facebook – since that's where the majority of our fans spend at least some of their time – and the recent technical changes that have been causing post reach and engagement to plummet. I'll also be talking about how to own your audience instead of allowing Facebook to control access to your current and potential customers.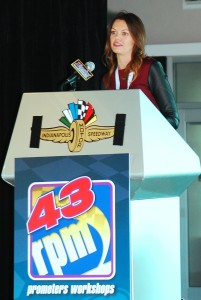 Those who listened to my talk in Las Vegas, Portland, or Indy, you heard about the scary reality that is the new Facebook. The old Facebook worked really well, with only a little bit of time, strategy or financial investment.
That's no longer the case for two reasons: the Facebook algorithm and the Facebook IPO, which allows Facebook to monetize with advertising.
The Facebook algorithm – a mathematical equation made up of more than 100,000 factors – works to decide whether to show your content to your fans, in what order and how often. We talked about how to work technically with the algorithm to increase the amount of content that your fans actually get to see.
Basically, all of that advice boils down to this: give your fans what the want to see, how they want it, and when they want or need to see it.
But what do your fans want to see? That's the most important question to answer if you want to be successful in your marketing, on Facebook and every other marketing channel.
And that's what I'll be talking more about in Daytona.
It's not just about whether photos get more clicks than videos or text updates at 9:00am reach more fans than links at 9:05am. All of that is irrelevant if you're not telling a story.
Or, even more importantly, a story that your fans are interested in.
Do you know what resonates with your fans? If not, it's time to start paying attention to why your fans like you. There are plenty of entertainment options for them on a Friday night – ask any promoter. There are plenty of race car drivers and athletes out there to follow on Instagram.
Why you? Because of your story.
People have positive feelings towards other people and things for a variety of reasons. It might be because they feel accepted by you or the atmosphere you provide. It might be because they aspire to be like you or a part of the atmosphere you provide. It might be because you facilitate an experience that they want to have: a conversation-striking t-shirt, the perfect first date spot or a fun bonding experience with their family.
All of those reasons? They are their stories (with you as the co-star).
So if you want more likes, shares and reach, you have to create content that tells a story.
Want to really crush it on social media? Make it a story they want to be a part of. 
xo.
Kristin