Earlier this week, I was able to attend the 42nd annual RPM Promoter's Workshops in Daytona Beach both as an observer and as an exhibitor. It was a great experience – two days of programming designed to help race track and series promoters be more successful – and I got to connect and reconnect with a number of great people.
In fact, I was lucky enough to meet some of you at my booth, at Volusia Speedway, and for private consulting sessions on Saturday and Sunday!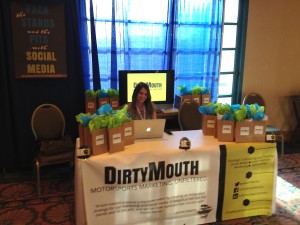 Since it was my first time attending RPM, and putting together a tradeshow exhibit for my own company, I didn't know what to expect – something that's a little bit, er, difficult for me.
See, I'm used to being the supporter. The person that puts it all together for someone else. I'm used to helping other people shine.
Frankly, being the center of attention felt pretty weird to me. But I realized that I have to learn to embrace that, or at least accept it, to promote what I love to do.
I imagine that many of you have to deal with this as you expand your careers and businesses as drivers, owners, and promoters. If you're here, you're probably the type that puts their head down and does the work instead of self-promoting. Even though, deep down, you know you have to do both.
If it doesn't come easy to you, rest assured that you're not alone.
I also learned a few more things that might be of interest to you, too:  
Being honest. Quite a few people at RPM asked me what I was selling, or how many sales I had made during the conference. When someone poses you those questions, it's hard to say 'none'. But unlike many of my peers, it was my first time there and I wasn't there to sell anything.
Because I was clear on my goal for the workshops: talk to as many promoters as I could and find out what they really needed, instead of selling what I thought they'd want. I felt uncomfortable at first, but almost everyone I shared this with was extremely receptive to talking about what they wanted and needed for their tracks.
If I had come in with a set idea of promoting one package or service, I likely would have been disappointed and probably wouldn't have learned anywhere near what I did about what my market wants.
And that leads me to another point: setting reasonable expectations. I'm the optimistic type. I have big ideas, and I'm traditionally pretty good at making them happen. But on this trip, not knowing what I was walking into forced me to let go of my usual, lofty expectations and set only this one: learn as much as I can.
And if all I learn is that people aren't interested in what I'm doing, at least I've learned that now.
Luckily, interest in DirtyMouth far exceeded my expectations. There were so many promoters from all types of racing and all types of backgrounds that were really interested (and excited) about what we're doing here. And that's the fourth thing I was reminded of: I thrive on talking to motivated people who want to improve and, ultimately, excel. 
I'm thankful for each and every motivated one of you, and I'm looking forward to making connecting with you regularly more of a priority this year. (Hint: a few new projects are on the horizon!)
Finally, I learned that the more you step up in your career and life, it's likely that: you won't always be able to prepare. Or at least not to your standards.
When I made the decision in December to go to RPM, I knew the timeline would be tight. I planned on spending the entire week, days and nights, leading up to RPM devoted to preparing for the workshops since Carl had the opportunity to head to Florida early. Unfortunately, things didn't work out that way – my grandfather passed away the day after Carl left and my week was spent arranging travel and spending time with my family.
It was the first time in a long time that I wasn't as publicly prepared in my business as I wanted to be. And it crushed me at first.
But once I got to RPM, I was reminded that I was the only one who knew what that original vision looked like. I got amazing feedback from attendees and it helped me to see that the work I had done was enough, and just showing up the best I could exceeded their expectations.
And that's probably the most important takeaway. 
When you decide to put yourself out there and take a chance, set reasonable expectations and let others in on them. Prepare as much as you can, and let got of the rest. Enjoy it.
It might not work out like you think it will, but you'll learn something.
And I don't know about you, but that's what I'm here for.
xo.
Kristin