Ever wonder why you hear about the same racers over and over again?
They're on podcasts, in magazines and being tweeted about by media members. And not just because they're winning races. They're talking about their upcoming schedules, sponsors they've secured and personnel changes on their team.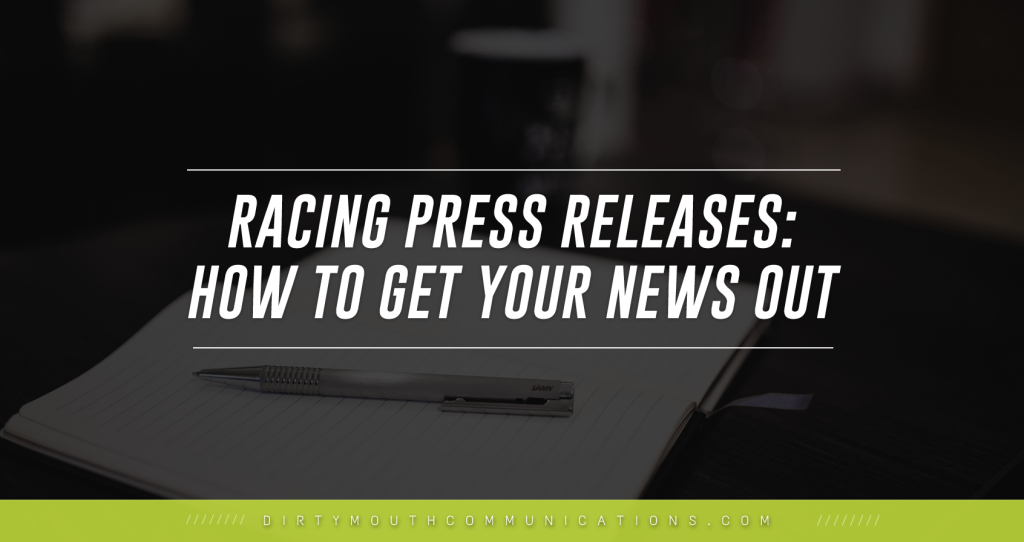 Why them and not others?
Usually it has something to do with their public or media relations strategy.
As many of you know, when I worked at the San Francisco 49ers, off-the-field public relations was my specialty. Same goes for when I worked at the Arena Football League.
As you can imagine, I've gotten tons of questions about public relations, media relations and tactics like press releases.
First, let's tackle the obvious:what's the difference between public relations and media relations?
Simply put, public relations is strategically communicating or building a relationship with the public. Media relations is a type of public relations, but focuses on your relationship with the media. For example, public relations is making an announcement to your fans via your social media channels. Media relations is the act of calling or emailing your local newspaper reporter about that same news.
Now, let's address everyone's favorite topic: press releases, and how to do them. 
Press releases are just a small part of a public relations strategy but, right or wrong, it's where we see the focus of most teams who are ready to take their game to the next level.
Here are some simple tips and tricks on what to do (and what not to do) when issuing racing press releases by topic:
Frequency.
There are some racers who write a press release every single week while some never send a press release out, and others fall in between. What's the best strategy? Only issue a press release when you have news to share.
There are many people in racing that might disagree, but there are few teams that have enough news for weekly racing press releases. What's news? Picking up a new sponsor. Announcing your schedule. Winning. Doing something different than what they'd expect. That's news.
If you're sending media members a press release every week and they're not getting news out of them, at some point they will stop opening your emails altogether. And then your actual news gets lost. Please don't fall into this trap.
Distribution. 
You've worked really hard on your newsworthy press release….don't let it die a silent death on your hard drive or Facebook feed! Create an email list of media members that you feel would want to share this news, and then email it to them.
Two major no-no's to avoid here: don't just send the press release via your email account. Use an actual email service provider (Mailchimp is FREE for a very generous number of emails, and it's what I use daily) so that the people on your list can opt-out if they don't want to receive emails from you in the future. If you email people repeatedly and don't give them that option, you're spamming them and it's illegal.
If you aren't going to use an email service provider, please, please, please use the 'bcc' function on your email. DO NOT put all of the recipients email addresses in the to: field or the cc: field. It's a huge invasion of privacy, and even if you don't get angry emails back (tip: you probably will), it's unlikely that the media member or influencer will be thrilled to share your news with their network.
Most senders don't make these two mistakes maliciously, but they are serious no-no's that you want to avoid.
Content.
First, see frequency. Having actual news in your press release is the most important part of a press release. (Hint: they're also called news releases for that very reason.)
Second, if you're looking for information on how to write them, we follow a simple formula: short introduction/setup, news, upcoming events or races and boilerplate (see below).
Third, keep it short and sweet so that it's really easy for the recipient to grab the news that you want them to share, and share it.
Don't forget to check for grammar and spelling mistakes, too!
Boilerplate.
Boilerplate is information that you include at the bottom of every release. The purpose of the boilerplate is to provide standardized information about your team (or event) for the media member's convenience. This might include what type of racing you do, what series or tracks you normally race with, your marketing partners and where to find more information about you. I recommend including links to your website and your main (read: most active) social media channels.
Boilerplate is extremely helpful for both the media and the public, because they often need more information about you to be able to write an article, but they don't need you to write an entire article for them. If they have to search high and low, they're likely going to move on to someone they're more familiar with.
Aaand, that's it for today on racing press releases! I hope it helps you determine when, why and how to best get your news out.
xo.
Kristin