When I worked in the advertising agency business, one of the first things we would do when starting a marketing, advertising or social media campaign was try to determine our 'ideal customer'.
In fact, if you and I have ever worked together – on race track marketing or otherwise – I've probably walked you through an exercise to help determine who your ideal client or customer is.
Whether you're selling sponsorship, in which case your marketing partner is your client, or selling event tickets you have to be able to address the customer's needs, wants or problems in order to offer them a solution, i.e. your product or service.
In order to do that, you need to know who you're marketing to. That is your ideal customer.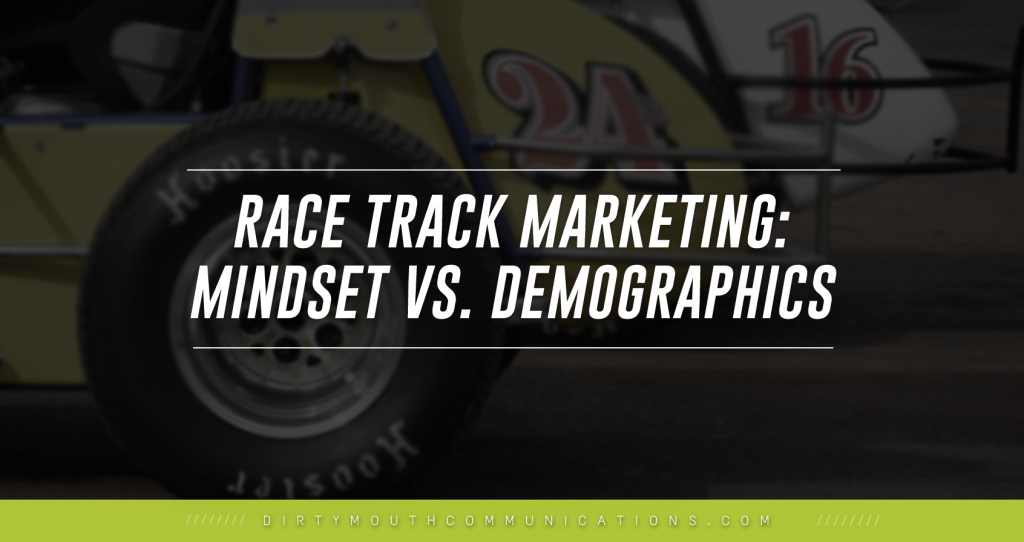 Traditionally, that ideal customer profile is created around a set of demographics which might include age, gender, location, income level, race, religion, marital status, etc. This is a set of facts that we used to employ to figure out what type of person is most likely to buy Widget X or hire Service Provider Y.
For example, for an expensive laundry detergent we might traditionally have targeted moms within the ages of 38-45 who had a household income of more than $100,000 because they were the most likely to be able to spend the extra money on clothing care.
If you want to think about it in terms of racing, how many times have you heard that our short track racing fan base is aging? Or that we're a blue-collar sport? Or that a family of four has to be able to afford the concession bill if they're going to come to your race track. That's a way of saying that our fans fit into certain factual demographics.
The same goes for sponsorship. How tempted have you been to target companies that are within your geographic region and 'make a lot of money'? I've heard the 'they can afford to sponsor me' argument many, many times.
Just because a company has 'lots of' money, it doesn't mean they want to give it to you. A mom with an above-average income doesn't necessarily want more expensive laundry care. An aging blue-collar worker doesn't necessarily want to come to your race track.
Boxing your customer into age, religion or gender demographics isn't so easy any more.
Why? Most people don't live (or spend) within the traditional boundaries of their ages anymore. Twenty-year-olds are living the retirement lifestyle, traveling the world in RV's and octogenarians are starting businesses from their smartphones.
It's all about mindset, not demographics. 
That's why our ideal client profiles are rooted more in what the customer thinks and feels than the facts we could find on their Facebook profiles.
We want to know what keeps them up at night. We want to know what their fears are. We want to know what their hopes and dreams are. We want to know how they spend their free time, what TV shows they stream, what books or magazines they read, what podcasts they listen to.
Why?
To tailor our race track marketing to what appeals to them.
Let's give an example: If spending time with their kids is what causes them sleeplessness, marketing the quality time they'd get to spend at the race track with their family is going to be much more effective than advertising that your ticket prices are within their budget. Right?
As racers, it's critical to understand the buying mindset of your customer, too. They're not buying because they have a certain budget. They're buying because you solve a certain need. This is exactly what we've been talking about lately – see why only winners get sponsored is a myth and the top ten reasons companies buy sponsorship for more information.
That's where I see the biggest opportunity for us as an industry: making our customers humans and marketing to their mindsets instead of how we size them up on paper. 
If you want to improve your marketing, start thinking about why your current fans or marketing partners buy from you. It's not because it's cheaper than going to the movies or a restaurant or buying a billboard. It's about the experience they have with you and the solution you're providing to them.
That's what you need to make clear in your race track marketing to current and new fans. Don't expect them to connect the dots. You have to do the legwork for them if you're going to earn their business.
And that's what's going to turn them into raving fans, not just numbers on a spreadsheet.
xo.
Kristin
P.S. Want to flip the script on the laundry detergent example? The first thing I'd do would be to look for the benefits and match that up with the wants or needs of the consumer. Does the extra cost mean it's eco-friendly? I'd target consumers of all demographics who were members of Recyclebank or interacted with The Honest Company on Instagram, for example. They're much more likely to prioritize natural products and spend more, even if their income level wasn't high.
P.P.S. That doesn't meant the demographics don't matter. I know the average age and income level, zip code, gender and marital status of my clients' Twitter followers. It's good business to know these things. But knowing that and marketing to that are two different things.