Note: Make sure you look for information at the bottom of the post on the giveaway!
I'm not sure if it's reading that makes me feel like a vacation or a vacation that makes me feel like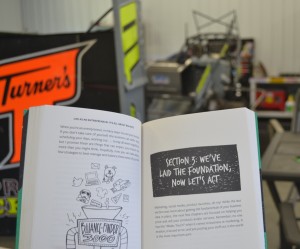 reading. Right now, I'm on vacation (for longer than a weekend – the first time since 2008!) and it never fails – when I'm not working directly on my business, I get more ideas and inspiration than probably the entire rest of the year.
One of the reasons? I read and listen to almost anything I can get my hands on. Some of it is business-related, some of it racing – I read a great article on Cory Kruseman in Sprint Car and Midget and another on this guy named Carl Bowser in Flat Out Magazine on the plane yesterday– and some of it just for fun.
This summer, I was sent a copy of Creativity for Sale by author Jason SufrApp and I was able to take it in over the course of a few long tows to Fremont Speedway and Wayne County Speedway.
If you've got a crazy business idea like, oh I don't know, racing, this is practically a manual for you.
Jason talks about building his own million-dollar business by wearing t-shirts and other silly things at iwearyourshirt.com. The book is part his own story – having a crazy idea and figuring out how to make money at it – and part a manual for others to do the same.
As the winter months approach, you might be looking for new material to dig into to inspire your racing program. To help you out, I'm giving away a copy – digital or paperback, your choice – of Creativity for Sale.
I feel like I can pull something out of almost everything I read to apply to racing, but it is especially true for this book. My favorite part? There are two. The first is actually acting on your crazy idea and building a business to pay for your passion.  The second is that you can't just build it – they won't come. You have to tell people about it. 
The book is relatively entry-level in terms of building a business, but I love Jason's tips and stories about how to build buzz both at the beginning, when people still think you're crazy, and once you get things up and running.
I think you'll enjoy the story and learn a lot about standing out from the crowd with Creativity for Sale: How I Made $1,000,000 Wearing T-Shirts and How You Can Turn Your Passion Into Profit, Too.
If you'd like to win a copy of Jason's book, here's how you can do it (by midnight Wednesday, October 15, 2014):
Leave a comment below answer this question: what are the biggest challenges you're facing off the track and can you give an example of something you'd like to do to remedy that this offseason? Brownie points, but no brownies (I wish!), for specificity.
Get a second entry if you're subscribed to the DirtyMouth email community. Not on the list yet? Join below – you'll get max one email per week with tips and tricks to make your racing dream a reality, and, of course, your email is never sold or abused.
Finally, earn third (and fourth) entry if you share on Twitter and Facebook. Share buttons are below!
I'll add up your entries on October 15th and use random.org to generate a winner, announced on Thursday, October 16th!
Xo. Kristin
P.S. The Dirt Classic Presented by Kasey Kahne was a huge success. Thanks to everyone who supported the event, and I can't wait to tell you all about what I learned!