"All things being equal people will do business with, and refer business to, those people they know, like, and trust." – The Go-Giver by Bob Burg and John David Mann
Marketers throw around the phrase 'know, like, trust' like pitchers throw around, well, balls. You've probably heard it before and completely ignored it, because what does that matter in racing? That's marketing.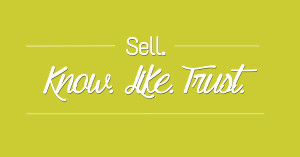 Here's how it applies to racing (which, by the way, is how it applies to the real world because we're not that different!): in order to become a customer – whether that's a sponsor, ticket holder or apparel buyer – a person has to trust you. You build trust with a potential customer by getting them to like you.
In order for a customer to like you, they have to get to know you.
In effect, first they get to know you. Then, they like you. As they like you, they trust you. Only then will they consider buying from you.
Putting yourself out there consistently is the first step. That means both online and in person.
Here's how I get to know people:
Talk to them. Shocking, if you know me. I'm quiet, but I actually do talk to people!!
Use social media. Tweet. Snapchat. Periscope.
View their website, read their articles or look at other non-social content.
Look at their associations with other people I already know.
Telling your story authentically is the second step in getting them to like you.
Here's how I decide if I like someone: 
Their interests, attitudes and values align with mine.
Their sense of humor. Do they get it?
Their respect for other people's time. Do they respond to people? Are they nice?
They mention unicorns, sprint cars, butter coffee, bacon or my dog. (I wish this was a joke.)
Combining these things – consistency and authenticity – is what helps a potential customer to trust you.
Here's why I trust certain people:
They show up, even when they make mistakes.
They treat other people well.
Other people speak highly of them.
Your reasons are probably different than mine, and you need to think about what your reasons might be. Now, what might your ideal customer's know, like and trust reasons be?
The next time you see people flocking to a buy something, anything, think about why they trust that person or business. Do they know them? Do they like them? Do they trust them?
And why?
xo.
Kristin