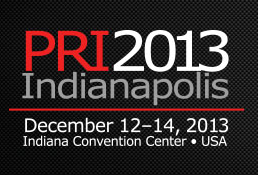 As far as conferences go, the International Motorsports Industry Show (IMIS) and the Performance Racing Industry (PRI) trade show have set themselves apart as the premier gatherings for racers and industry folk alike.
Events like IMIS and PRI provide valuable networking opportunities, key insights into the industry on and off the track, and for most of us two shots of motivation and inspiration for the next racing season. Now that the two shows are combined, there's an unprecedented number of opportunities to meet new people and learn new things, but it's also overwhelming to decide how to spend your time, especially if you're not able to attend the entire show.
Having attended for the past few years, here are a few tips that I have for getting the most out of your trip to IMIS/PRI:
1. Save Your Sanity. Generally I would tell you I can't help you here – let's just say that would be the arguably bat-shit crazy leading the blind – but in the specific case of trade shows, I can give you some advice.
The whole point of these conferences is to provide a ton of information about a ton of different subjects so that everyone can have access to pretty much everything they need in one place. But it's a gift and a curse – if you try to learn a ton of information about a ton of different topics at once, you probably won't absorb much of anything.
I make this mistake myself – I try to go to every class that even remotely interests me so that I have that information in case I need it sometime in the future. But I take so many notes and record so many snippets of lectures that I just set it all aside when I get home to sort out later. I get excited about the info, then overwhelmed by how much of it is there and walk away. And I rarely go back to it – sometimes missing the very opportunities that I went there to find.
It completely defeats the purpose.
The hard, unfiltered truth is that you won't be able to take it all in. So choose a few topics that you want to learn about this year, I recommend a maximum of four, and let go of the rest. The more you try to do, the thinner you're spreading yourself. Then, only go to the seminars and talks that directly relate to the handful of goals that you're looking to achieve the next year.
2. Use my note-taking system. You won't achieve any of your goals without taking action. So I take two kinds of notes – one for general information that relates to your goals and milestones and a second set of notes that you can't put into action in the next few weeks. Sometimes I do two columns in one notebook, sometimes I do two separate notebooks and sometimes I take one set and highlight action items as I go.
Another tip? If you've got multiple people in your group going to the same seminar, have everyone take notes. You'll be surprised at how different the final product will be.
3. Skip classes. You did this plenty in high school and you turned out alright. At least that's what your mom says.
Don't go sit in presentations all day, and not just to save your sanity. Some of the best information you'll get is the conversations you'll have at the vendor booths and in the hallways (read: happy hour). There's definitely value in what you'll learn from seminars, but getting ahead in racing depends just as much on rubbing shoulders and building relationships.
4. Make a plan. Stick to it (or don't.) If you wait until you get to Indy to decide what booths you're going to visit and what seminars you'll attend you'll get very overwhelmed, especially with the shows combining this year. So sit down and look at the website before you leave to decide on a basic schedule.
But don't be afraid to ditch your plan once you get there – you never know where you'll get invited or what you'll find out about at the show. Don't pass up opportunities just because you put a schedule into your iPhone.
5. Prepare your elevator speech. Then identify the elevators. If you're looking to meet people, like product manufacturers or potential sponsors and customers, you're going to have to introduce yourself over and over again. Be prepared.
Here are a few tips for crafting a good set of answers:
Think about who you are and who you aren't.
Think about what you want people to know about your story. What's important for them to know and what doesn't matter?
Practice your message (a lot).
Define a few different approaches, and test them out. See what piques people's interest and what makes people's eyes glaze over. After a while, you can hone your pitch to what works best.
Identifying the elevators – or the people who actually want to hear what you have to say – is extremely important. Spending your time pitching yourself to people who aren't interested is a waste. It doesn't benefit you and it doesn't benefit the other person, either – it might even leave a bad taste in their mouth. Quickly reading body language and cues can help save you time and energy.
6. Listen at least as much as you talk. You'll build more relationships by listening than you will by telling people how great you are. I trust that you know what I mean here.
See you there?
IMIS/PRI is a ton of fun, and I hope this helps you get the most of your experience.
I'll be at the show on Thursday and Friday, and out and about in Indy on Saturday. Leave a comment below, hit me up on Twitter at @kswartzlander or shoot me an email at Kristin@dirtymouthcommunications.com if you want to meet up and chat about racing and the business side of our great sport. I'd love to see you there!