It's one thing to talk about what you need to do in theory.
It's another thing to show you how to do it.
Today, I'm doing just that.
If you're interested in using social media as a tool to fuel your racing platform, this mini case study on Facebook Posts That Work is for you. I'm breaking down one of my recent client posts that did incredibly well in terms of reach, engagement and opportunity.
We'll explore what went into the post, and how and why it worked so well.
The Results:
Before we get started, I want to share the numbers with you for our case study feature (Carl Bowser Racing):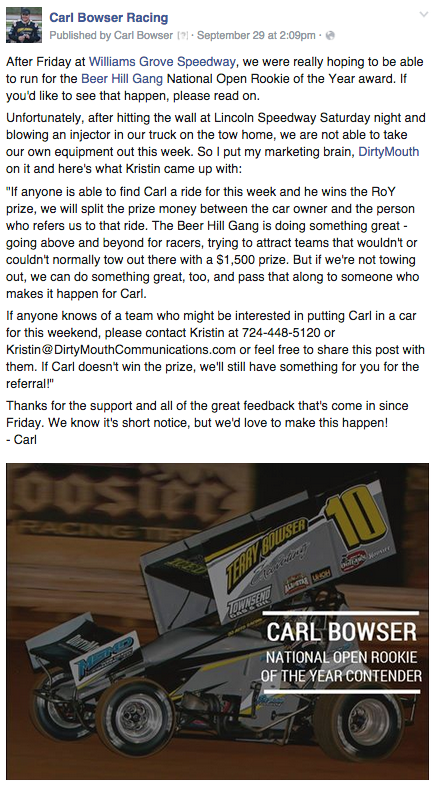 Original Page Likes: 1,793
Additional Page Likes Over Average Daily: 75
Reach: 12,000+
Post Clicks: 1,800+
Likes, Shares and Comments: 285
Opportunities: Multiple
I think it's important to share the numbers because if you're consuming any sort of social media marketing information that's not geared toward your niche, the numbers can be astronomical. Big brands like General Motors or Doritos are going to blow up the internet with hundreds of thousands of likes on their 'viral' posts. But that's not realistic for niche industries like motorsports, so it's less applicable, replicable or even inspirational.
So, this will hopefully give you a good idea of what an average sized motorsports property can get for a reasonably 'viral' post.
By the way, these numbers come from your Facebook Fan Page Insights. If you want to know more about how to find them and what you can do with them, here's a helpful post for you: Proving Your Sponsorship Worth (with real, hard metrics!) and another on Matching Your Audience to Your Potential Sponsor's Target Audience with Facebook Insights.
The Post, And the Story Behind It: 
Carl was up for the National Open Rookie of the Year Award at Williams Grove Speedway, but was unable to take his own equipment to race because of a crash the day before and a blown injector in the rig. With only two days lead time, we knew it would be almost impossible to call around and find him a ride for the race. And, although we see other teams asking publicly for help finding a ride, motor or sponsorship money, that communication style and messaging doesn't fit Carl's brand.
So, we sat down and come up with a plan: Carl had a very distinct shot at the $1,500 award, which was generously put up by the Beer Hill Gang to entice more teams to the race, but if he went, he wouldn't be paying to tow our equipment across the state. We could, then, afford to pass that money along to the team that put him in the seat and the person that connected him with that team.
Once we had that plan established, the messaging became simple: if you referred Carl to a ride and he won the award, he'd split the prize money between the fan and the team.
How We Promoted It, and Why It Worked: 
I worked up a quick graphic using a photo from his first trip to Williams Grove the weekend before, where he did remarkably well for his first time on the track. The photo was eye catching because of the angle and the car design, and I used the free photo editing tool Canva to overlay a dark filter so that the white text would pop.
The text on the graphic was simple, which also made it share-worthy. The graphic is one of the biggest keys to a post gaining momentum. It has to be simple, eye-catching and beautiful – something that a person would want to have on their Facebook wall.
We also wrote a post that was straightforward, heartfelt and in Carl's natural voice. It was relatable because of its honesty – we knew it was a long shot, but we knew we owed it to Carl to try – and because we recognized that someone else was trying to help the sport and we could do our part to pass it along.
We also tagged the race track and the Beer Hill Gang, which helped them to notice it and interact with it early on.
Ultimately, the post was extremely sharable for the following reasons:
It was real and credible, and true to Carl's brand. It wasn't far-fetched, we didn't act like Carl was entitled to an opportunity, and it wasn't the hundredth time we'd asked for support. It came from a place of humility, not ego. And that fit Carl for anyone who already knows him, and it fit the scenario for anyone who didn't.
It was appreciative. If you're asking for help, or for someone to take an action, you have to be clear that you appreciate their time.
It connected with the fans. We wanted to give a fan and a team a pile of money for helping Carl achieve a goal.
The graphic was optimized and the post was well-formatted, making it easy to read and easy to understand.
There was a clear call-to-action.
What to Take Away: 
Every week, I'm crafting social media updates and strategies for my clients. And this is one great example of what you can accomplish when you strategically put in the time and effort, both consistently over time and for bigger posts like this one.
With Facebook's algorithm limiting how many fans see Fan Page posts, it's difficult to get eyes on your content and you really can't expect everything you post to have a remarkable response. In fact, most won't. But being true to your messaging and staying consistently in front of your fans will set you up for success on posts like this when the scenario warrants it.
When you're ready for a home-run social media post, here are some tips on increasing reach and making it really work:
Have a simple goal or outcome in mind.
Make sure your post text and image reflect that goal.
Use a simple call-to-action.
Make it easy and straightforward for fans to interact with it.
Make sure that the imaging and messaging is natural to your brand.
All in all, you really need to ask yourself why your fans should care and how you can show them that in the most simple terms possible.
There's no simple formula for making content go viral, and you'll likely need to work at it over time to really hit home on what your fans connect with. For Carl, putting some time and effort into a strategy really paid off, with multiple opportunities, exposure to new fans, engagement with sponsors and one local track (which also helped expose their brands to new fans – hats off to them for going the extra mile!), and a deeper connection with his audience.
Hopefully this will show you what's possible with some strategy and a little bit extra work. Of course, if you're tired of the guesswork and would rather have someone guide you through the process, you can always hit me up for a coaching session or a full-on social media program.
xo.
Kristin
P.S. If you're a racer getting ready to embark on a sponsorship search this offseason – or whenever your reading this (hellooo, future!) – be sure to check out the new free private DirtyMouth Sponsorship Success Community, where we have lots of racers and racing professionals sharing their tips and tricks for finding, acquiring and activating sponsors. If you're a race team or professional who wants to learn more from others – not just me! – on racing sponsorship, I encourage you to join the group and introduce yourself. I hope to see you there!