As many of you know, last year I had the opportunity to help produce the Dirt Classic Presented by Kasey Kahne with Jarrod Adams of Adams Investing and Alan Kreitzer of Lincoln Speedway.
Together we created a solid foundation for the entire brand from scratch, crafting everything from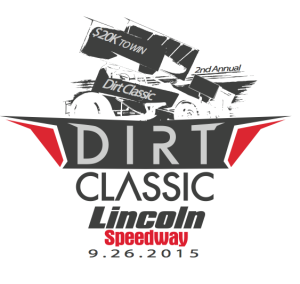 logos and social media profiles to the race format and purse structure.
Everything, and I do mean everything, was built into an overall promoting strategy designed to build awareness for the initial event and create a brand experience that customers (drivers + fans + marketing partners) would want to experience year after year.
This year, the Dirt Classic will once again be an event produced by DirtyMouth. And as we work on the event, I'm thrilled to see how solidly we built this strategic foundation for ourselves.
Because of that solid foundation, we're able to innovate with tactics.
Instead of rolling out a brand-new social media strategy, we're able to tweak and innovate with individual tactics. Instead of a new advertising strategy, we can optimize to reduce costs and test new ads. Instead of a new race format, we're able to modify the existing one to create better track conditions and more exciting racing.
One of the fun new promotions we've introduced this year, for example, is the Fans' Vote Race. The race will be a five-lap, $400-to-win dash for four cars as voted in by the fans on the DirtClassic.com website.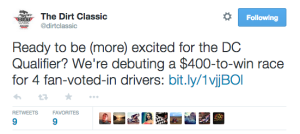 Most importantly, though, it offers us a new tactic to promote the event through engagement with fans and drivers. 
It's great for us – it doesn't add a large percentage to the purse or time to the event. It's great for the fans – they get to see their favorite drivers compete in an extra race. And it's great for the racers – they get extra pay, with $100-to-start, and extra exposure in the showcase, with the added bonus of extra time on the track.

The promotion allows fans to express their passion for their favorite drivers in a way that the teams, not the event promoters, are directly rewarded. The drivers, too, can spread the word about the Fans' Vote Race, themselves, and our event by promoting the opportunity on social media.
It's a simple and easy to execute, and it's not even new in the grand scheme of motorsports. But it's new to our event and our fans.
And that's the sweet spot we're trying to find: simple, engaging and fun.
Freshening up the way you engage with your audience, whether you're a team, series or track promoter, or media outlet, doesn't have to be overly complicated if you expand on what already works for you.
We've just announced the Fans' Vote Race in the last week, and the response has been, frankly, overwhelming. In the form of hundreds of votes. And (mostly) extremely positive feedback. In full disclosure, though, we have gotten complaints and criticisms about pay, laps, number of drivers, which drivers are on our forms….you name it.
But we're not afraid to try something new just because of a few negative opinions. Or, the fear that someone will copy our idea. If you do something new, you'll likely encounter both of these speed bumps.
In fact, that's part of the fun of experimenting and learning. The more you do it, the less you worry about either. Because the payoff is big.
I hope you'll consider taking the leap, too.
Xo.
Kristin
P.S. Trying something new this season? Would love to hear about it via email or in the comments below!