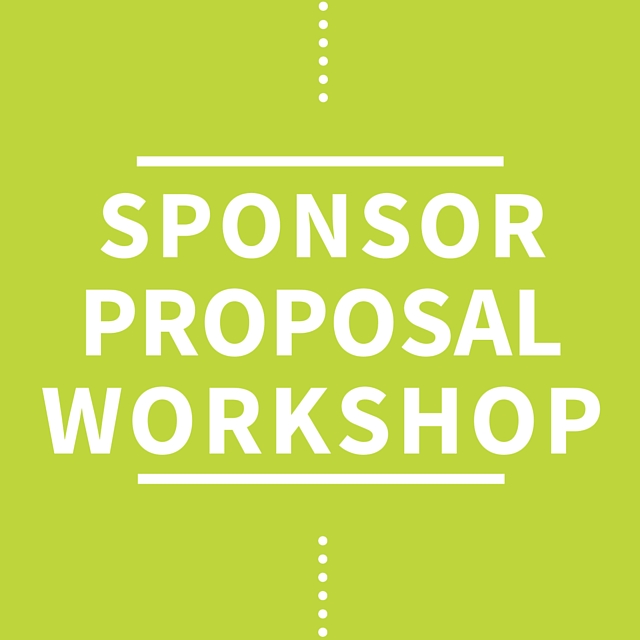 A private sponsorship marketing workshop developed exclusively for racers who want to create effective sponsorship proposals from the ground up.
Workshop Details: 
Includes: 1.5 hour video workshop you can watch it over and over again with TONS of supporting materials.
What You'll Learn
Want to learn how to create one, single proposal that knocks it out of the park for every sponsor you approach? Sorry, this training ain't for you.
If there's one thing I've learned over the years of pitching and being pitched over seven-figures in sponsorship, it's this:
There is no one-size-fits-all proposal (that works). 
Creating the right marketing proposal for a potential sponsor starts with – you guessed it – focusing on your  potential partner and their needs. And when you start with the customer in mind, the end product will be unique for every pitch.
But don't fret – you don't have to start from scratch each and every time.
In fact, we've found that properties (teams, tracks, athletes, event promoters) who have a systematic approach to creating proposal materials are the most effective in meeting their sponsorship goals.
So how do you do it? That's what we'll teach you in the Creating Effective Proposals Workshop.
Here's what we'll cover on the path to creating an effective sponsorship proposal that clinches deals: 
Presenting the right proposal to the right sponsor is critical. And customization is key, both to capturing attention and securing marketing dollars.
Instead of hyperventilating about what should be in your proposal, how it should be organized, and what font (for the love of all things racing!) should be on the header, imagine that you're cool, calm and collected. You're not stressing. You're not sweating. You're not wondering. You slide that bad-boy across the table (or internets), knowing that your proposal isn't a fudged set of numbers and drawings of where the company logo will go on your race car or track.
There is a one-size-fits-all approach to sponsorship proposals that can help you go from stressed mess to owning it. And that's what we're here to talk about.
The Pitch Process
To understand how to create an effective sponsorship proposal, you must first understand the pitch process and how  your proposal materials fit in. We'll touch briefly on this process and the steps you'll need to understand to create the right materials at the right time.
Proposal Types (and How They Fit in the Pitch Process)
We'll first touch on the primary purpose of your marketing proposal (hint: it's not just to line your pockets with cold, hard cash), and what the proposal should and shouldn't be for the marketing partner. We'll go over the DirtyMouth philosophy on what to include and what to leave out to capture a decision maker's attention from the beginning, and keep them reading all the way to the agreement.
We'll also cover the three documents that you need to pitch sponsorship effectively, and how and when to use each of them.
Critical Elements of the Proposal (with Examples)
Now that you know the theory, let's talk about putting into practice. We'll go over what you need to include in each of your three documents, what changes from pitch to pitch and what doesn't, and how to structure them. We'll talk about all of the information, including data and media that you already have access to, that you'll need to gather and include, and what you may need to collect throughout the season if you haven't already compiled it.
Your proposal content will lean heavily on these elements, with a major emphasis on easy-to-understand, custom offerings that provide clear return on investment. We'll provide examples and point you to resources for each of the elements. (We highly recommend the Crafting and Valuing the Perfect Offerings Workshop as a complementary tool for this training.)
You'll also receive handouts that include sample verbiage, elements and structure for each of the three documents that will provide a baseline that you can customize with your own offerings, graphics, media and data.
Let's Do This. Together.
Ready to get out and put your perfect offerings into play for the perfect marketing partners? Effective sponsorship materials will get your pitch into the hands of decision-makers, captivate their attention, and help them sell your program internally – so they look like geniuses to their bosses and buyers.
Stop guessing at what works and what doesn't. Start winning.