"Bad marketing done consistently will beat good marketing done inconsistently." – I'm not sure who said it, or even where I first read it, but I like it. A lot.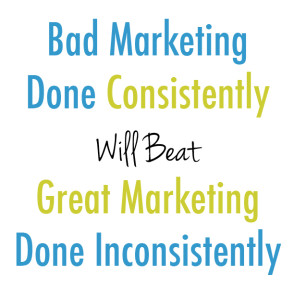 It's a good reminder to me that just showing up consistently is more than most people will do.
On every level of racing, there are champions. Championships are designed to name and reward the best performer over the course of a season.
How many times, though, have you seen or heard someone gripe about a champion who didn't win that many races? That's why championships can be so controversial, and why NASCAR in particular has struggled with how to determine a champion over the last decade.
We all know that consistency is the key to winning championships, even if that means you rarely, if ever, see the top of the podium.
In racing, I get that. But for me, this 'consistent bad marketing' principle can be frustrating. And eye-opening.
Because while I'm toiling away, whittling every sentence to perfection, other people are showing up more often. See, I'm a perfectionist. A lot of times, this is a great thing. My clients especially love it. But some times it slows me down, waiting to release things or submit a piece of work until every little detail is perfect.
(By the way, I'm not trying to say that others are doing bad marketing and I'm doing good – often, we're just different. In fact, that's DirtyMouth in a nutshell. The reason that I created my business and started publishing (free!) content here is that in many ways, I don't think we do our sport justice with our marketing and business practices. We're behind. And I wanted to change that. I still do.)
So, while it can be frustrating, it's a good lesson for people (like you and me) who want to do great work. We want to put out the most drop-dead apparel, the most eye-catching sponsorship proposals, and the most likable, shareable social media updates.
But I see that – the fear of not being perfect – stopping many people I've worked with, myself included, from doing anything at all. And that's what's got to change.
If you want to finish races, you have to be consistent in the garage. If you want good results, you have to be consistent on the track. If you want to pay for your racing, you've got to be consistent with your budgeting, sponsorship marketing and building your audience.
See, wins are nice. Well, better than nice. They're fun. They're sexy. They're what we live for. But if you're serious about racing, you're here for the long haul.
You're here for a championship.
And we know how champions are made – with consistency, of course.
With love,
Kristin
P.S. I'm learning along with you, here. What does that mean? If you follow along on social media – you can find me on Twitter and Instagram as @kswartzlander, and on Facebook as DirtyMouth Racing – you'll notice more consistent updates. I'll be sharing new and old blog posts, media mentions and other great content more consistently.  Boom, y'all.