This week, there's been quite a lot of discussion about the costs of racing: the costs for fans, the costs for promoters and the costs for teams.
When I talk to any one of the many tracks that I work with on a weekly basis, most – not all, but most – will tell me that purses are too high. The math doesn't work on raising, or sometimes even maintaining, payouts without raising ticket prices. And the sport can't sustain that.
By that math, they're right. Payouts are too high.
Ask any number of my racing clients, though, and the costs of racing, whether that's being competitive or just being compliant, are going up. And payouts are not. In fact, many drivers are finding some envelopes lighter than years past when they get to the window at the end of the night. I know we have.
Like at the race track level, there aren't many ways to cut costs for racers. Not safely, anyway.
By that math, they're right, too. Payouts are too low.
So what does that say for our model if everyone is right: payouts are too high, payouts are too low and our fan base can't sustain a rise in ticket prices?
Economics would say that supply is exceeding demand. Perhaps we have too many races, too many race tracks, and/or too many race cars for the number of fans in the stands to sustain them.
I don't like that theory. And not just because I love racing.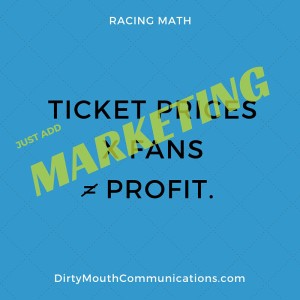 In all of these conversations, I have yet to see anyone discuss what bridges the gap between costs and pay in the rest of the entertainment industry: the big 'M' word.
MARKETING.
The NFL doesn't pay their players millions of dollars each year based on how many tickets the Detroit Lions sell at their stadiums. Marketing dollars pay for that. Marketing in the form of stadium advertising, broadcast rights, licensed apparel, and a million other practices. The same goes for the NHL, MLB, UFC and more.
Other forms of pro sports are connecting their fan base to the companies that want to reach them through marketing. It's actually that simple.
Racing has a large, extremely dedicated fan base. We can model other pro sports to generate revenue that benefits teams, tracks and even fans in the form of content, access and atmosphere.
Some promoters and race teams are already doing this. They're the successful ones that the rest of us are trying to catch. Sometimes literally.
And there are bonuses to marketing that go beyond just improving your bottom line. Do you think an on-site apparel pop-up shop or wi-fi/phone charging station would make your atmosphere better for fans? What about gourmet food offerings, kids' games and activities, or broadcasts that allow your fans at home to see the action, too?
Marketing isn't necessarily about selling more. When it's done right – and right, by the way, makes it effective – marketing enhances an experience.
Think marketing is just for race tracks? Think again.
Yes, there is obviously the traditional sponsorship model – using your car as a billboard to give companies exposure to fans. But race teams can – must – get in on the marketing concept, too.
Race teams can work with marketing partners to provide VIP, behind-the-scenes experiences for customers, clients and employees. They can create exclusive content only available via paid channels or through marketing partners. They can incorporate their marketing partners into fan giveaways and merchandise purchases.
Race teams can bring brands to life through marketing, too, all while adding to the fan experience.
So, if it's that simple – using marketing to pay race teams and tracks more without raising the prices on fans – why isn't it happening?
Because it's hard.
We have to do the work ourselves. And it's not easy.
But the easy math is what got us to a major gap in the industry. And if you want to be successful, as a car owner or track promoter, you have to figure out how to close that gap.
I suggest marketing.
xo.
Kristin