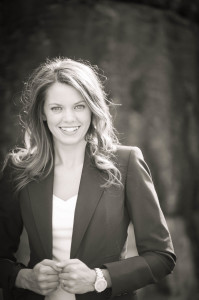 If you're building a racing business – a team, a track, an event or even a store – you know that you need customers.
Customers come in different forms – fans, purchasers, media members, marketing partners or sponsors – and you need to get in front of them to be successful, whether you're selling a piece of merchandise, a ticket or a story.
While making a connection in person is always best, there are only so many opportunities to do so.
And that's why I think social media is the most powerful tool in any businesses' arsenal today – we can be reaching new fans and building our audience 24 hours a day, seven days a week, no matter where you are.
So, if you're taking building your racing career seriously, and you're approaching it as a business, you need to be looking to social media to build your audience.
Agreed? Agreed.
Now that we're – ahem – agreed, let's talk about where to find your audience. In the same way that you're won't be successful selling life insurance to a kid in the candy aisle, you don't want to be hammering tweens on Snapchat with, well, life insurance pitches.
(No insult meant to the insurance industry – I happily have plenty of it. But, as my friends and family will quickly remind me, I am no longer a tween.)
There are a few ways to approach finding the right platforms to build your audience. These two questions should determine how you read the rest of this post:
Are you going full-bore in the direction of your dreams and willing to dive into whatever will serve you? Or,
Do you want to make the best of what you'll actually do, instead of trying to sacrifice your natural behavior for the good of the business?
There's no right or wrong answer to those questions. Everyone's at a different stage in their journey, and imperfect action is so. much. better. than starting something you won't stick with.
That being said, let's move on to where I recommend finding the people that a) align with your brand and who you and your business are and b) are most likely to become customers.
Media and Industry Professionals: Twitter. While most will have a LinkedIn profile, they are both hanging out and finding their news on Twitter. They're scouring our quick little headlines for something that they can pick up and feature, or to network with other industry pros.
Potential Marketing Partners: LinkedIn. If you want to be able to connect with them professionally, most marketing pros are have a profile on LinkedIn. This may not be where they'll initially become aware of you and your brand, but this is most likely where you want to connect when you're doing your research and warming up your prospects.
Your Fan Base: Oh boy. This one can be kind of a doozy. Because most people have multiple social media accounts and hang out in multiple places.
Here's my breakdown of what's important, because you kind find anyone of any age, race, religion or creed on any given platform at any given time:
Want to create an audience of raving fans?

 Ask yourself what demographics your brand appeals to, and you'll find the right platform:

Want to reach people under 24 specifically?

Look to Snapchat. Yes you can find them everywhere – there are specifically high numbers on Tumblr and Vine – but brands (and that's who you are!!) find the most success reaching potential customers in this age group on Snapchat and Instagram, which teens cite as their most important network.

Want to reach as many people in any age group as possible?

Facebook, my friend. This well-worn platform goes through significant, regular changes but if you can build, or already have, a passionate group of fans, you'll reach most of them through Facebook. While Facebook crosses the age divide, you will find the most fans age 65+ on Facebook first and LinkedIn second. (That might be your target and it might not, but think about this: is it a potential marketing partner's target? We'll get more into that in a second.)

Want to reach women in particular?

Pinterest. You need good, no, great, lifestyle images to make an impact on Pinterest, but hot dog is it a way to sell to women.

Want to sell merchandise and apparel?

Make sure it's rad (or whatever word is currently tolerable) and in the lifestyle vein, and put it on Instagram or Snapchat, like I already mentioned. If it's traditional-style racing apparel, you'll do perfectly well with it on any platform that you have a fan base. Race fans, thank goodness, are everywhere!

Want to show off your professional image and marketability to potential partners?

Setup shop on LinkedIn. Your presence will be particularly valuable if you're providing updates on the platform, not just creating a resume, and interacting in appropriate groups.
Your (Potential) Sponsors' Fan Base: This is where that set of questions really comes into play. If you're putting finding potential marketing partners above what's natural and comfortable for you, you might be looking at using different platforms than you normally would in order to build a fan base in their target audience demographics. If not, that's fine. If so, that's fine, too. But you'll want to do your research on who your prospects are trying to reach and where they're hanging out, and then hang out there, too. For sponsors in the digital age, this is one of the most important and valuable, if not the most valuable asset you can bring to the table – the ability to help them reach and connect them with the audience they're selling to.
Once you find the direction that you want to head, then it's time to dive into a) how to best use the platform and b) how to best build your tribe. Whether you're a reader or a scroller, two books that I highly recommend for digging a bit deeper into those two tactics are Gary Vaynerchuk's Jab, Jab, Jab, Right Hook: How to Tell Your Story in a Noisy Social World and Seth Godin's Tribes: We Need You to Lead Us.
xo.
Kristin