I have to say, I'm pretty excited to roll into 2015. In the past few weeks, I've gotten busy on goal-setting for the new year.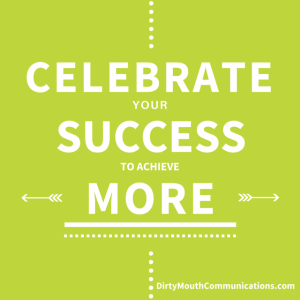 I've got a few projects up my sleeve for both racers and promoters, and I'm pumped to share those with you over the next few months.
But before that all happens, I want to take a moment to avoid one of the biggest mistakes that I make each year: not celebrating the goals I met from the previous year.
If you don't recognize your past successes, you're subconsciously telling yourself that you won't celebrate future ones, either. How motivated do you think you'll be, then, to achieve those goals if there's nothing in it for you in the end?
You must celebrate your accomplishments to know what success looks (and feels) like.
Here are a few highlights from my 2014 – the good and the bad – and the lessons I learned:
Growing the community. DirtyMouth became a real, live thing in 2014 and the response was amazing. There are so many people, from clients to friends, which I'm proud to be associated with – and a lot of those people came to me through this blog. From page views and social media statistics to subscribers, the numbers far exceeded my expectations. But there is still tons of room for growth.
Actually, that's my main focus for 2015: continuing to grow and serve this community, to make a real impact on this sport. (So, if you find this or any other piece of content from DirtyMouth helpful, I encourage you to share it. Let's make racing better together. )
Doing the work. I had no idea at the beginning of 2014 that I'd have gotten to work on some of the projects I have. I was lucky enough to help produce the Dirt Classic Presented by Kasey Kahne, work on getting the word out on the Motorsports Safety Education Foundation, help more multiple clients more than double their sales over the course of the year and others make public relations and audience-building gains they never could have dreamed of.
The work is why I'm here – I want to contribute to this sport and those who are trying to grow and improve it. This blog, my social media presence, the public speaking I've been tapped for this year – it's all so that I can do my kind of work with my kind of people. If you ever worry that getting the word out  about yourself or your racing is unnecessary or too vain, you're missing out on connecting with people who will love what you do and want to work with you.
I've learned that the hard way.
Money. I had a mixed year in terms of income and savings. I fell slightly short of what I had hoped for in income, but I exceeded my savings goals so it wasn't a net failure.
Taking a look back, I know that one of the reasons I didn't hit my income goals is because I turned down a few contracts – some because I wasn't in a good place and didn't feel right committing to the work if I wasn't truly excited about it, others because the work or client wasn't the right fit. And that's the right move for my brand, long-term instead of my short-term bottom line.
So does not hitting that number really matter? Kind of. Money has always been important to me – not because of fancy clothes or a big house. It means freedom to me. It means the ability to call my own shots and live the life I want.
But I got a surprise bonus lesson about freedom that changed how I think about money goals…
Family. We made a big move at the end of this year– my husband Carl left the family business after 10 years to focus on his racing career. I can't tell you how inspired I am by this change in both of our lives – as much as he enjoyed working with his family, it's a six-day-a-week business that mostly operates in the summer. It just didn't fit with our long-term racing goals.
I'm proud that we were able to figure out how to make this move financially, mentally and emotionally. Although we're living on one income, he's able to focus more on his dream – which is endlessly motivating for me, too. 
Plus, it's helped us create another new venture: a shock services business for Carl. In November, we purchased a Maxwell Industries shock dyno so that he can serve the shock services gap in our market. Like every other opportunity, we don't know what this will look like in five or ten years, but it's exciting to see him build something for himself.
I could write for days on all of the things I've learned, mistakes I've made and goals I knocked out of the park in 2014, but those are a few of the highlights. I hope it inspires you to take a look back.
Don't just move on from the goals you've achieved, or haven't. Celebrate. Figure out what helped you get there, or what kept you from it. Then apply that logic to setting your sights on 2015.
Thanks for being here in 2014. I'm so looking forward to 2015 with all of you! Happy New Year.
Xo.
Kristin